HOW TO REMUX VIDEO FILES USING MACHETE
Using Machete, you can quickly and easily remux a selected video file (this is called remuxing process). The resulting file will be stripped of extra information, such as subtitles, unneeded audio streams etc while preserving its original video and audio quality. Through remuxing, you can reduce the size of the file without changing its format.
! Note that with Machete Video Editor Lite you can only remux AVI and WMV video files.
To create a remux, open the file and go to the menu File-> Save As... If the file contains more than one audio stream, you will be presented with the dialogue window to selected the audio streams you wish to keep: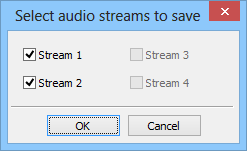 In this dialog window, you can select the audio streams you'd like to keep in the resulting file.
We recommend that before doing this, you listen to available audio streams and note down their numbers. For this, use the menu Play-> Audio Stream.
After you've picked the audio streams you want to keep, press OK in the dialog window to go to the Save As... dialog to save the file under a new name. After the file is saved (this may take a while) it is now remuxed.
---
See also: